You Have 2 Options Of Where To
Go from Here…
Option #1 is you can choose to forget about everything you've learned today…
Ignore the research on how your growth hormone levels have likely dropped with age…
Which has put your body in a state of anabolic resistance… which makes it harder to build muscle after you turn 35 and every year after that…
And how even sticking to your workout program…
Guzzling protein shakes…
And even having high testosterone levels…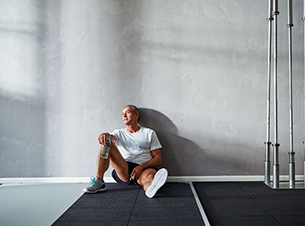 Still isn't enough to really help you burst through the invisible glass ceiling that's keeping you from building the quality muscle and strength you desire and deserve.
If you take this option you'll keep comparing your progress to when you were in your 20s and early 30s…
When the gains were rapid and noticeable…
And get frustrated when you only make a few small changes that nobody else notices but you.
You'll keep putting in tons of work… spinning your wheels for minimal results… and wonder if it's really worth it to workout for little return on your investment.
When that happens you'll likely take the route most guys our age do…
Accept the lie that your best days are behind you…
Or that you've reached your genetic limit…
Start looking for excuses not to train…
And join the utter mass of men who give up on their body… and so their body gives up on them.
I hope like hell this isn't you…
I really do…
Because it doesn't have to be this way.
Some guys "go quietly into the night," as they say…
But because you're still reading, I don't believe you're one of those guys.