TestoGreens Max
Men's Superfood Formula
Secure Transaction
Unleash the power of the newly patented Tesnor®— a unique cocoa bean seed and pomegranate peel extract that boosts free and total testosterone, strength, and maximizes bedroom performance.
TestoGreens MAX doesn't stop there. With the help of DIM your body gets the support needed to powerfully flush excess estrogen from your system, thus helping maximize your male hormone profile for optimal performance in the office, gym, and bedroom.
Top this formula off with some of natue's most potent vegetables and Bioperine® to increase the absorption of these nutrients and you've got the ultimate men's health supplement in a bottle.*
Testosterone Surge
With the help of Tesnor® men of all ages may experience a surge in both total testosterone and free testosterone unlike any other nature-based patented formula known to man. This according to the publication of two brand new 2022 studies uncovering the powerful effects of this powerful ingredient inside TestoGreens MAX.*
Strength & Stamina
Experience more strength and stamina in the gym, at the office, and in the bedroom. Many users of the ingredients inside TestoGreens MAX report improved performance behind closed door, improvements in grip strength, arm size, and daily energy.*
Estrogen Metabolism
Xenoestrogens are everywhere. And it's estrogen that's responsible for contributing to stubborn fat, occasional moodiness, and other man problems. Now it's possible to help quickly and naturally metabolize excess estrogen from your body and optimize your male hormone profile.*
Tesnor®
Bioperine®
DIM
Greens
Vegetables, Herbs, and Mushrooms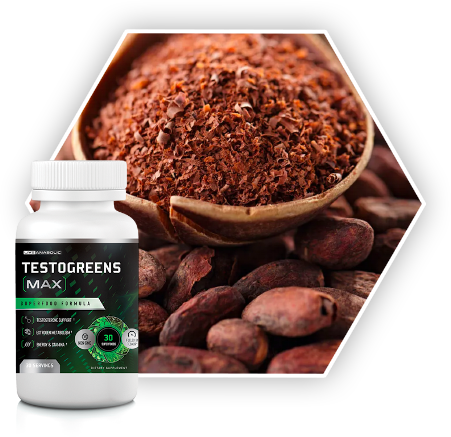 Tesnor®
This patented cocoa bean seed and pomegranate peel extract increases free and total testosterone, significantly improves grip strength and upper arm size, and significantly improves male aging scores around energy, strength, and sexual performance. 12*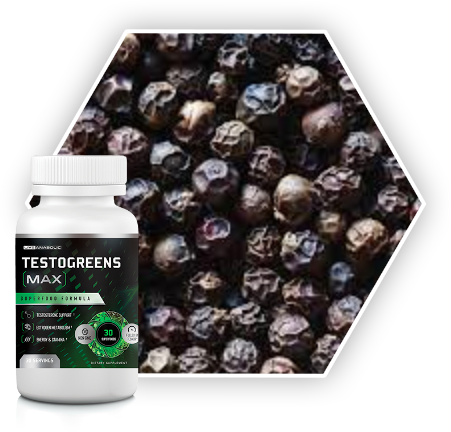 Bioperine ®
Black pepper extra is a piperine used to improve the absorption of key nutrients to get the most out of each ingredient.*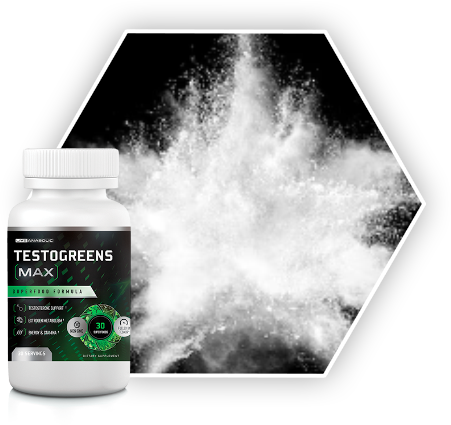 DIM
A powerful estrogen-combatting compound to naturally help optimize your male hormones to help you achieve your body recomposition goals and combat those pesky feminizing features. *
Greens
Alfalfa, spirulina, wheat grass, spinach, broccoli, cabbage, celery, kale and more. Each capsule of TestoGreens MAX is jam packed with health, immunity, and longevity boosting vegetables that you'd be hard pressed to get in a typical diet. *
Vegetables, Herbs, and Mushrooms
Turmeric, carrot, tomato, beets, bell pepper, cauliflower, cinnamon, and a variety of mushrooms give the TestoGreens MAX formula a robust well-rounded nutrient profile to help you maximize your health, life, and performance.*
How To Take TestoGreens Max
Take 4 capsules in the morning. For maximum results take 8 capsules (4 in the morning and 4 before bed)
Boost Free & Total Testosterone As You Demolish Excess Estrogen
When it comes to looking, feeling, and performing like a hard-charging red-blooded man you need your testosterone pumping and your estrogen balanced. With the help of the ingredients inside TestoGreens MAX you'll gain an edge that few men even know is possible.
Experience The Difference
Testosterone up. Estrogen down. Strength and muscle increase. Unsightly body fat decreases (when used alongside exercise and proper nutrition) Experience the daily difference.
You've Got Questions,
We've Got Answers.
1 BOTTLE
$64.95 USD
FREE SHIPPING
$47 PER BOTTLE
ADD TO CART
Secure Transaction
6 BOTTLES
$294.00 USD
FREE SHIPPING
$49 PER BOTTLE
ADD TO CART
Secure Transaction
3 BOTTLES
$177.00 USD
FREE SHIPPING
$59 PER BOTTLE
ADD TO CART
Secure Transaction