A Look Inside All 6 Ingredients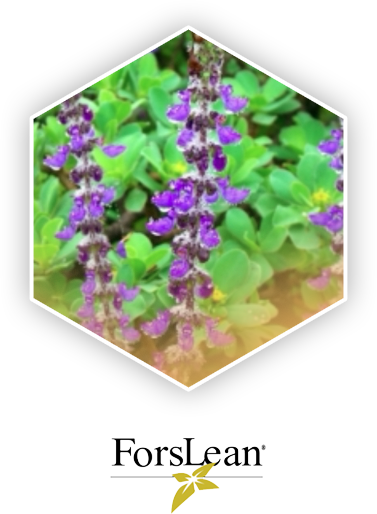 ForsLean® (10%) Coleus Forskohlii Root Extract (250mg)
Coleus Forskohlii is an Ayurvedic herb that is supported in research to boost cAMP levels… Nobel Prize winning researchers refer to cAMP as an "ancient signaling molecule"... and this molecule is shown to help stimulate fat loss and help support healthy testosterone levels.
Again, taking some generic Coleus Forskohlii has very limited bioavailability on it's own.1 Which like we mentioned before…
Basically means it doesn't get absorbed into the bloodstream as fast or efficiently to experience noticeable results. So we teamed up with a local company that produces a more effective form of coleus forskohlii called ForsLean®.
ForsLean® has won numerous awards for it's innovation in providing a potent form of Coleus Forskohlii that in our opinion is second to none.2
In one randomized, double-blind, placebo-controlled study...
15 overweight and obese men where given 250 mg of ForsLean® twice a day for 12 weeks… while the other group of 15 men were unknowingly given a placebo.
And the researchers reported the men who consumed ForsLean® twice a day had "favorable changes in body composition by significantly decreasing body fat percentage and fat mass"...
Additionally, the ForsLean® administered group saw a change in bone mass compared to the placebo group… with a "trend toward a significant increase for lean body mass"... according to the researchers.
The study also confirmed serum free testosterone levels were significantly increased in the ForsLean® group compared with the placebo group...3
Now it's important to note these men did not change their diet, they didn't start an exercise regimen…
These were everyday guys who were overweight and simply added ForsLean® to their daily routine twice a day.
Another study also examined the effects of ForsLean® taken twice a day — 30 minutes before a meal in the morning and a meal at night for 8 weeks…
The participants didn't have to change their diet or exercise. And the study showed the subjects lost an average of 9.17 lbs while experiencing gains in lean body mass with no weight training at all. 4
So imagine the kind of effects ForsLean® can have on your body when you pair it with a strength training program.
Another study published in Tokyo evaluated ForsLean® when consumed by another group of overweight volunteers… This time, instead of 250mg twice a day of ForsLean®, the researchers used 125mg of ForsLean® twice a day and found that after 3 months the group that was taking ForsLean® twice a day… 5
Had a significant decrease in total body weight...
A significant decrease in body fat…
Improved body mass index…
And increased lean body mass compared to the placebo group…
WITHOUT any side effects...
And without following any diet or exercise regimen noted.
So based on the latest research of ForsLean® we knew that we had to get this ingredient inside of Anabolic Shred— and we did in its research-backed dosage.
Eurycoma Longifolia (100mg)
Longjack is an ancient herb that's great for supporting clean energy and supporting healthy testosterone levels.
One study tested the effects of longjack in a group of 63 subjects… half the group was given longjack and the other half was given a placebo.
Researchers found the longjack group lowered cortisol levels by 16%... and boosted testosterone levels by 37%. 6
Likely the reason it works so well is because longjack can help boost the most bioavailable form of testosterone in the body called "free testosterone." 7
Longjack has also been supported to improve body composition by increasing muscle mass and lowering body fat percentage.
One study tested the effects of longjack on a group of trained men for 8-weeks. What they found was…
The longjack group had a greater loss of body fat percentage than the placebo group…
The longjack group gained more muscle strength than the placebo group…
And the longjack group gained more muscle mass than the placebo group… adding almost 2 inches to their arms compared to the placebo group that didn't gain any muscle… 8
Based on all the studies above…
That show longjack is quite possibly one of the most effective performance-boosting herbs for men our age… We couldn't help but add it into Anabolic Shred to give you the extra edge you deserve.
R-Alpha Lipoic Acid (240mg)
R-Alpha Lipoic Acid is an antioxidant already made in the body. But as you get older… your body can produce less R-Alpha Lipoic Acid… 9
Which can make it harder for your body to use the glucose you get from eating carbs… as energy. Think about when you were a kid…
You had so much vitality and energy... You could eat all the food you wanted without gaining weight or feeling sluggish after… Your body was completely energized after cake, ice cream, and cookies to the point you were bouncing off the walls…
Well back then your body produced more alpha lipoic acid… and was better able to shuttle the glucose from carbs into your cells to be used as energy...
It's important to support youthful levels of alpha lipoic acid. Doing so can help prevent an increase in unwanted fat storage. It can even help with energy levels and combat intense cravings...10
Research even supports the idea that those who consume alpha lipoic acid as a supplement can experience a significant decrease in body mass index and overall fat mass… 11
Now, while there are several forms of R-alpha lipoic acid on the market… many of them have been shown to be relatively unstable in the body…12
Meaning they have poor bioavailability and bad absorption. So your body doesn't actually get the kind of benefits I just mentioned…. Which is why you want to combine R-alpha lipoic acid with another ingredient that I'll mention further down this page that can boost the bioavailability of R-alpha lipoic acid for faster more noticeable results.
Chromium Polynicotinate (200 mcg)
When you take chromium alongside consuming carbs...
The chromium allows your body to utilize those carbohydrates…
By helping shuttle them to the muscle where they can be used for energy… and ultimately help you push harder in the gym and possibly even hit some personal bests. However...
You don't just want to use a regular chromium supplement or chromium picolinate or the other types of chromium's out there…
See there's a reason we recommend chromium polynicotinate...
And that's because chromium polynicotinate is shown to have a higher bioavailability and safety profile compared to other forms of chromium.
You've already heard me mention bioavailability…
And to be honest…
It's the most important thing when it comes to supplementing with any of the ingredients I'm sharing with you today.
Because if your body is not able to absorb the nutrients before getting fried in your stomach acid… Then the only effect you'll be getting is a placebo effect… and I'm guessing that's not what you want to sign up for.
And even then, you don't want to stop with chromium polynicotinate alone. Sure, it has better bioavailability than other forms of chromium, but when combined with the ingredient Niacin, it can help enhance the bioavailability of Chromium Polynicotinate even more.
+ Niacin (5mg)
We added Niacin to help optimize the Chromium Polynicotinate inside Anabolic Shred. Taking Chromium Polynicotinate alone just isn't enough. With our science-supported niacin and chromium polynicotinate combination in their research-backed doses, Anabolic Shred can help you...
Utilize carbs even better and help get more results out of your workouts or just have more energy for your favorite hobbies or other fun activities...
Help prevent unwanted fat storage in your cells…
Support optimal fat burning...
And simply help you get even faster results with your goals… like being in better shape, fitting well in your clothes, and feeling all around like a better version of yourself in the ways it matters to you most.
Bioperine® (5 mg)
There's one final ingredient we added to help support all of the natural ingredients inside of Anabolic Shred and that is Bioperine®.
Bioperine is a natural black pepper extract that can help increase the delivery and absorption of these herbs, vitamins and minerals for the optimal performance of each ingredient in your body.
See most formulas don't have an ingredient that helps deliver the nutrients into your body faster, before they all get burnt up in your stomach acid. With Anabolic Shred and our "secret weapon" Bioperine® — you can be confident that the delivery of the ingredients inside our formula are naturally enhanced to help give you the best experience possible.
FREQUENTLY ASKED QUESTIONS
Who is Anabolic Shred for?
Anabolic Shred is for men in their 30s and beyond who want an edge to support increased fat burning and faster results. At the same time, Anabolic Shred can also help boost testosterone and maintain lean muscle mass. Whether you're 30 or 80... we're confident that you can benefit from the research-backed ingredients and supported doses inside Anabolic Shred and get even more of an edge.
Does this product give you jitters? How about helping you in the bedroom?
You'll get a lot of energy… "everywhere," without the jitters. Plus, with the added testosterone support, you'll likely have more passion and libido and she's going to notice too.
Can this help build muscle as well as burn fat?
Yes, Anabolic Shred has added testosterone support, to help you get the most out of your workouts and support building lean muscle, while burning fat simultaneously. Plus, studies show the ForsLean® and longjack ingredients specifically help you maintain a healthy weight, support daily fat burning, and can help increase muscle gain at the same time.
Do you need to cycle off this product?
No, this is not a steroid or anything like that. It's a natural fat loss support supplement for men that also supports healthy testosterone levels and lean muscle. You can safely take Anabolic Shred up to twice per day for as many days in a row and for as long as you'd like.
How many servings are in a bottle?
There are 30 servings in one bottle (30 capsules).
You can take one capsule 10 minutes before every higher carb meal— 2 times per day for the best results. Keep in mind that because you'll take Anabolic Shred before higher carb meals, one bottle will likely last you 15-30 days, so your wisest choice today is to stock up with the 3 or 6 bottle option and save hundreds of dollars when you do.
Can I see the label?
Is there a money back guarantee?
Yes— and it's an ironclad 365 day 100% money back guarantee.
That means if after you order your supply of Anabolic Shred today... you have a full YEAR to decide if it's for you.
And if for whatever reason you decide it's not…
Even if you order all 6 bottles and there's not a single capsule left by the time you're done... Simply send us an email... and we'll give you a full refund.
But if you're like any of the other men who have already taken the ingredients inside Anabolic Shred... you'll be pumped by the results you see in the mirror and in your everyday life.
Is there caffeine in Anabolic Shred?
No. This is a non-caffeinated fat loss support.
Do you need to workout for this pill to work?
Not necessarily but for the best results, yes. Diet is very key as well. Anabolic Shred will help you lose fat and build muscle and strength, but you have to do your part as well if you want to see the best results.
Does this product interfere with your own body from making its own testosterone?
No. Again, this isn't a steroid of some form of TRT. Anabolic Shred will help support your weight loss goals as well as your natural testosterone production.
I'm ready to try Anabolic Shred. How do I get started?
It's easy. Choose the supply of Anabolic Shred that's right for you at the top of this page.
The one bottle option will get you started...
The 3 bottle option will work together to help boost your energy and performance... and you'll likely become even more active as the weight comes off.
And the 6 bottle option will set you up to help burn through old and new fat, and optimize fat burning for the long haul, while safely and naturally supporting your testosterone.
After placing your order Anabolic Shred will be dropped off in a discreet package at your front door in the next 7-10 business days. And remember— you have a full 365 day 100% money back guarantee so there's no risk to try it today.